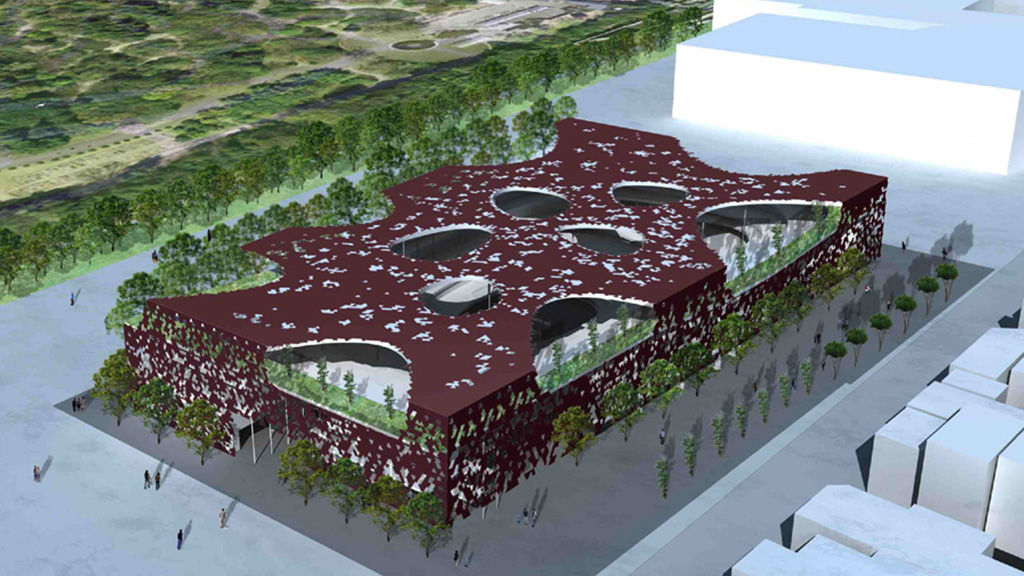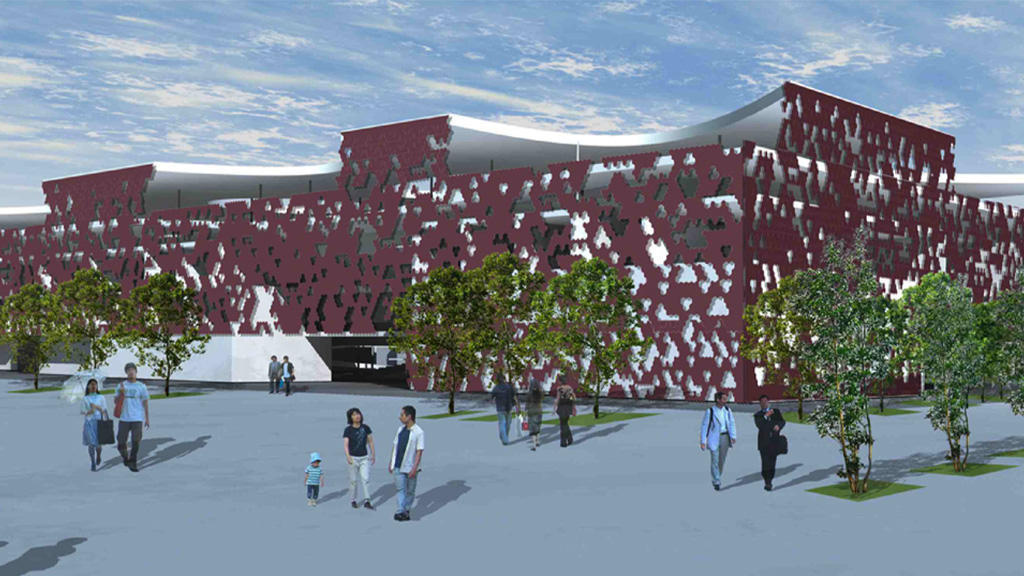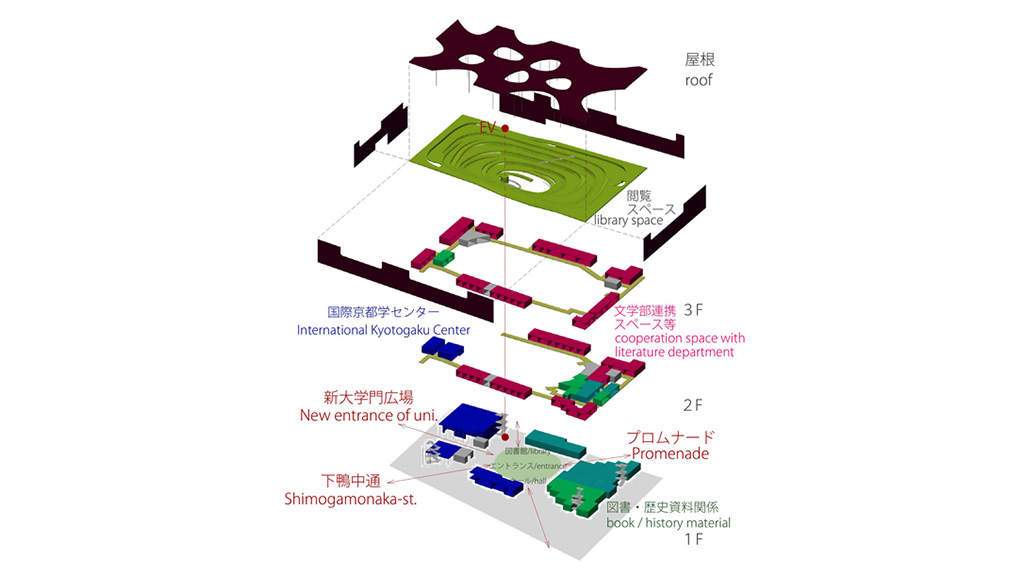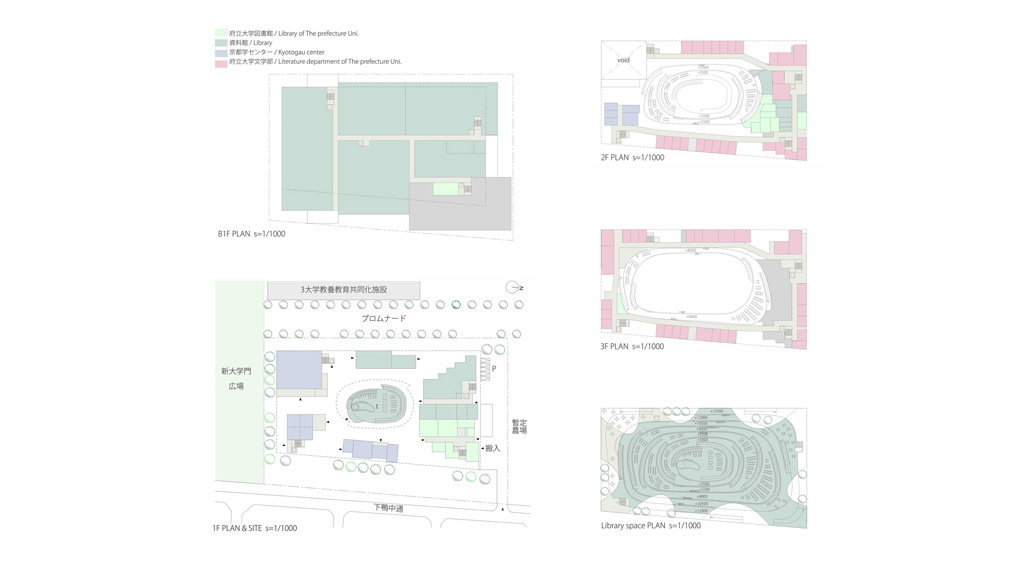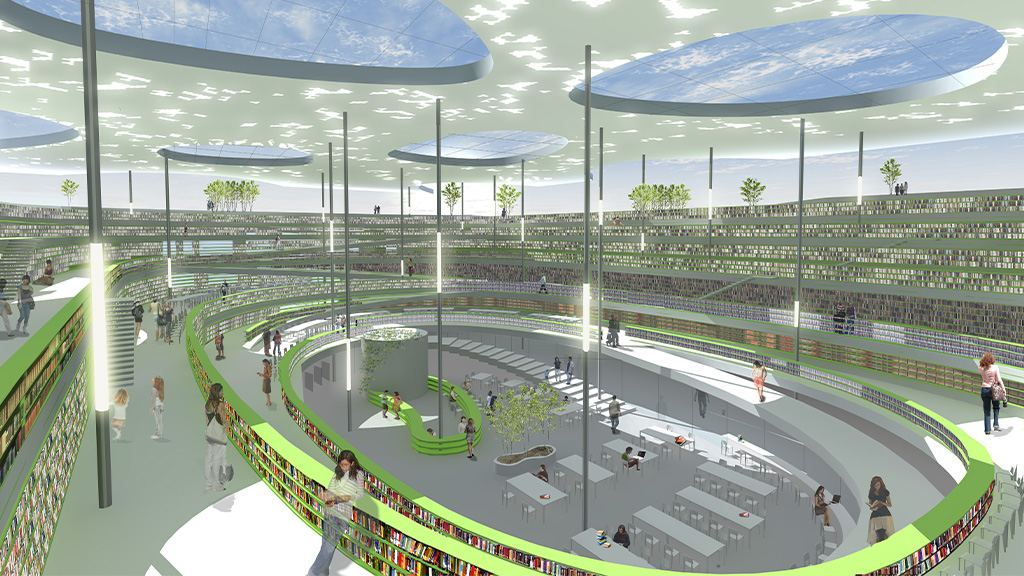 [A PLACE FOR LOCALS]
新資料館の環境は、東に京都ノートルダム女子大学や京都工芸繊維大学、西に京都府立植物園や加茂川があり、
南に京都府立大学、北に北山通のショッピングエリアや京都コンサートホールがあり、
観光地の多い京都市内にある限られた市民の為の憩いの地域でもあります。
そこで、市民が散歩の延長線で立ち寄れる様な資料館を目指すこととしました。
本計画では国際京都学センターや文学部連携スペースと、閲覧スペースを鮮明に分けるとともに、
閲覧スペースに市民が休める公園のようなスペースを付け加えることとしました。
国際京都学センターや文学部連携スペースを建築の外側を囲む様に配し、内側に閲覧スペースを配しました。
1階から4階まですり鉢状に広がったスペ-スとなっており、4階は図書館利用者や大学生、
地域の人々が休むことができる公園のようなスペースとなっています。
また、4階の公園スペースからは五山の送り火や京都タワーが見える等、
京都市民にとって"place for local(地域のための場所)"な空間となる事を目指した新資料館です。
[ A PLACE FOR LOCALS ]
The environment of the New Museum: in the east, stands the Kyoto Notre Dame University, and The Kyoto Institute of Technology, and in the west the Kyoto Botanical Gardens are positioned while alongside it runs the Kamo River. In the south, the Kyoto prefectural University and in the north, the Kitayama-dorii Shopping area and the Kyoto Concert Hall exist. Amongst a tourism-rich city, these amenities play an important role in providing services for the resident community in the area.
Thus, we have decided to aspire for a Museum where locals are able to visit casually by walking distance.
In the plan, we decided to include space for the International Institute of Kyoto Studies, space for a joint literature resource, and browsing space, separating them clearly while utilizing the browsing space as a place where locals can rest within a park feature.
The space allocated for the International Institute for Kyoto Studies and the joint literature space, will be located on the outer partition of the architecture which will surround the browsing space within. The first to fourth floors will spread out in a parabolic form, and the fourth floor will comprise of the park space to be used by members of the library, university students, and local residents.
Furthermore, the fourth floor will provide views of local iconic buildings such as the Kyoto Tower and surrounding festivities such as The Gozan no Okuribi. Therefore, aiming to provide an interpersonal space where the local residents can further build community.